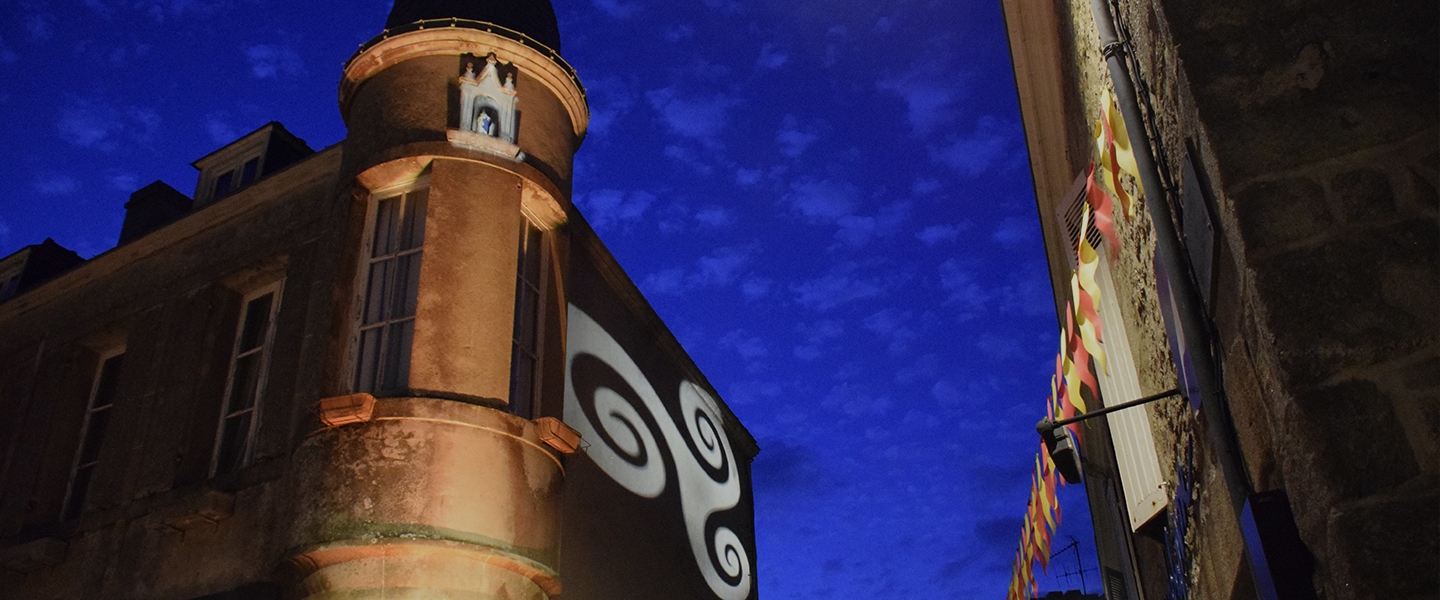 Case studies
Lights on Guérande
The Guérande Light Plan, which began on 1st January 2016, is an ambitious and strategic project for the town. The solutions put in place within the framework of a public-private partnership were designed to meet the aesthetic expectations of a Town of Art and History (French label), while preserving the stones and the environment. The effects were both sustainable and beneficial to local economic dynamism, with eco-friendly systems that are less energy-intensive.
39
essential sites developed
40
% reduction in energy consumption
The History of the Town, a journey into the past with state-of-the-art modernity...
Known for its famous salt, the third largest municipality of Loire-Atlantique with 3,000 hectares is home to a magnificent mediaeval town. Already beautiful in daylight, Guérande is now stunning at nightfall thanks to a multimedia network and 700 connected projectors: LED projectors, profile spots and dynamic effects tell its Story through immersive digital scenarios designed exclusively for the town.
Legacy developed and environment preserved - 'check'!
A fairy-like atmosphere that is not created with a magic wand, but with technology devised to use less energy and adapt to the architectural constraints of a very protected site. At the core of the response designed by Bouygues Energies & Services is Citybox, a revolutionary solution developed by the Group's R&D, that avoids adding cables to listed building façades and gives new life to an electrical network that is several decades old. Under the watchful eye of the heritage architect, the old systems have been dismantled and the new equipment designed as urban furniture to fit in harmoniously with the multi-secular stones of the town.
Infinite visual and sound design possibilities
Citybox works as a real digital platform for remote management of public lighting point by point, optimised by coupling several City controllers in order to enhance its capacity to work in total safety throughout the mediaeval city. More than 2,500 IP type information channels irrigate the town and 300 lighting points have been changed, to be able to play with a palette of colours and designs projected on the walls, and even sound!
Lighting up the local economy!
Light means activity... for longer. Inhabitants take pleasure in rediscovering their town and tourists are more keen to stroll through its streets. More people over a longer time period means the local economy is stimulated with shops remaining open later. To be an increasingly attractive town was a strategic challenge incorporated in the proposal made by Bouygues Energies & Services, a real economic partner contributing financial solutions so that this ambition could become a reality in the short term.
A positive client experience founded on trust
Led jointly by the town's teams and Bouygues Energies & Services professionals in a close relationship of collaboration and trust, the work to light up Guérande once again shows the company's capacity to provide a tailored response to demanding specifications, to satisfy the client, create pride and delight young and old!
"Lights over Guérande": find out about the project in the report below.
Latest news
Find all the topics that make Bouygues Energies & Services news: projects, innovations, public and client events, partnerships, press releases ...
One of the largest photovoltaic power plants in France is being built by our teams.

Sustainability is a unifying theme and major partnerships are being established.

Our UK team has been selected by VIRTUSfor the turnkey delivery of its LONDON7

A day of interactive discussion about diversity and inclusion strategy.

Round table to discuss about national and European support for the hydrogen industry.

Project Manager Aaron Yule will lead the team in charge of transforming Ashford's lighting.

Official opening ceremony of the new North Mole thermal power plant

After 1 year of work, the connected control centre of the OnDijon project was unveiled

Because preserving health and safety is and will remain the top priority.

The Top Employers Institute acknowledges the quality of the company's working conditions and its HR policies.

Come and meet us to develop innovative energy solutions together

How is the OnDijon scheme progressing after one year ?

The results of more than 3 years of work presented at the European Utility Week

The international event on urban development.

A successful handover had been completed for Phase 1 of VIRTUS Data Centres' LONDON5 facility.



With Sun'R we have combined our skills to support Lamagistère in its energy transition.

Axione becomes the 86th member of the altnet cooperative.

Our goal : being innovative together.

We will demonstrate that it is possible to put technology at the service of well-being!

SIRO announces investment with joint venture to connect 10 towns to Its gigabit network

Smart management of public amenities will enable local authorities to improve their performance.


Mozambique faces electricity supply challenges due to limited infrastructure required to generate and evacuate power.

Signing of a new contract with Equis, the first regional developer of renewable energies

Award for centralised technical management system of Marseille's L2 bypass

The safety commission met on site and officially recommended that the building could open to the public

Delivery of 4 solar farms 100km to the north of Bangkok

New latest-generation production site for a world leader in carbon fibre manufacturing

An exemplary project combining technical challenges, energy development and local involvement