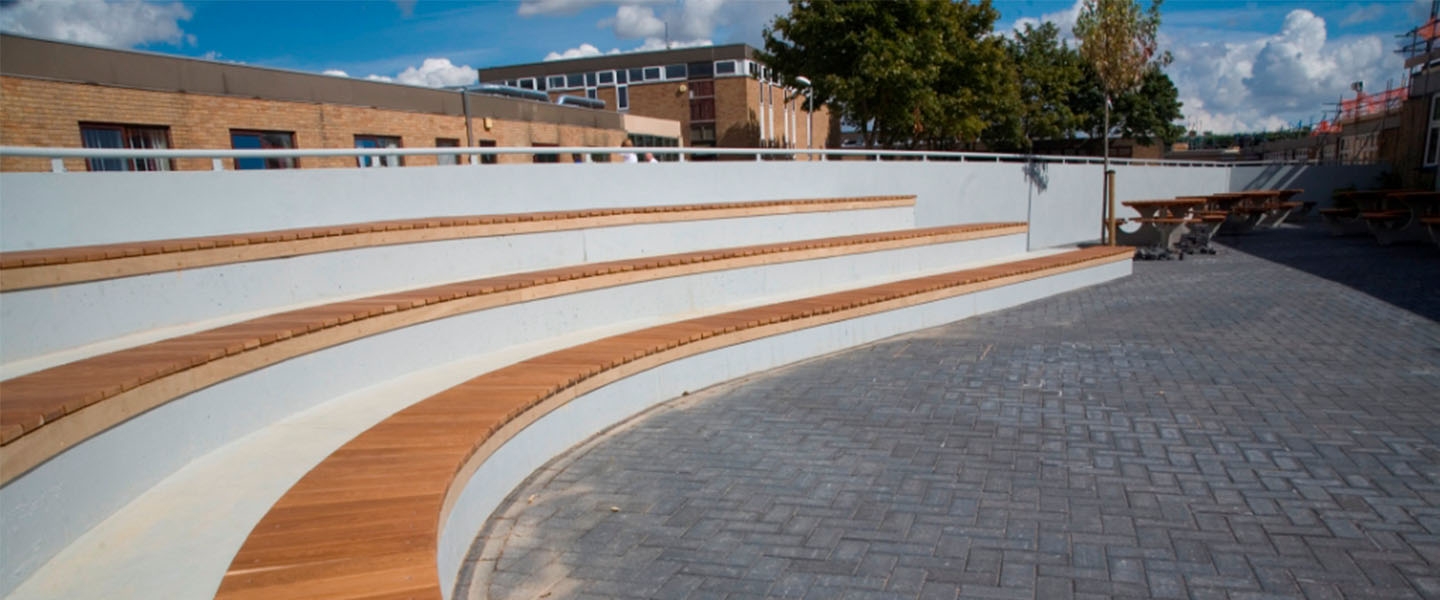 Case studies
Peterborough Schools
CONTEXT
In 2007, Bouygues Energies & Services began a 30-year PFI Agreement with Peterborough City Council to deliver a Total Facilities Management contract to Jack Hunt School, Ken Stimpson Community School and the Queen Katharine Academy.
Benchmark review every 
5 years
Bouygues Energies & Services ensures that the buildings, fixtures and fittings are maintained to a nearly new standard throughout the lifetime of the contract. We work in partnership with the client to ensure investment is targeted to meet the needs of the schools.
Our Solution
Through the CAFM (Computer Aided Facilities Management) system - which schedules, monitors and records planned and reactive works - we can effectively plan manpower requirements to meet the needs of the schools, adapting to their labour structure accordingly. This is continuously reviewed to ensure the model is in line with the ever-evolving business needs of the education establishments.
In addition, Bouygues Energies & Services have introduced 'mobile devices' assigned to all front-line operational staff to ensure work is assigned quickly and efficiently, ensuring jobs are prioritised and responded to effectively.
Community Use is an additional income stream to the schools and as the facility's demand grows, we need to adapt to meet these needs. In order to achieve this, the team across the 3 schools are no longer static by school; they have been trained to understand the different requirements of the individual schools providing increased flexibility. This allows us to move our staff to backfill where necessary.
Client Benefits
Structure and assets are maintained and equipment is reliable and effective
The 30-year Lifecycle Plan in place ensures that the structure and assets are maintained to ensure equipment is reliable and effective, achieving as little disruption as possible.
Continuous maintenance of the structure and the assets ensure the buildings consistently provide a safe and comfortable environment for all building users.
Compliance is maintained
Bouygues Energies & Services' expertise ensures that all statutory compliance obligations are maintained.
Value for money to the client
We undertake a Benchmarking exercise every 5 years to ensure 'best value' to the client. This is undertaken by an external specialist contractor and has identified that Bouygues Energies & Services costs remain 'value for money'.
Latest news
Find all the topics that make Bouygues Energies & Services news: projects, innovations, public and client events, partnerships, press releases ...
One of the largest photovoltaic power plants in France is being built by our teams.

Sustainability is a unifying theme and major partnerships are being established.

Our UK team has been selected by VIRTUSfor the turnkey delivery of its LONDON7

A day of interactive discussion about diversity and inclusion strategy.

Round table to discuss about national and European support for the hydrogen industry.

Project Manager Aaron Yule will lead the team in charge of transforming Ashford's lighting.

Official opening ceremony of the new North Mole thermal power plant

After 1 year of work, the connected control centre of the OnDijon project was unveiled

Because preserving health and safety is and will remain the top priority.

The Top Employers Institute acknowledges the quality of the company's working conditions and its HR policies.

Come and meet us to develop innovative energy solutions together

How is the OnDijon scheme progressing after one year ?

The results of more than 3 years of work presented at the European Utility Week

The international event on urban development.

A successful handover had been completed for Phase 1 of VIRTUS Data Centres' LONDON5 facility.



With Sun'R we have combined our skills to support Lamagistère in its energy transition.

Axione becomes the 86th member of the altnet cooperative.

Our goal : being innovative together.

We will demonstrate that it is possible to put technology at the service of well-being!

SIRO announces investment with joint venture to connect 10 towns to Its gigabit network

Smart management of public amenities will enable local authorities to improve their performance.


Mozambique faces electricity supply challenges due to limited infrastructure required to generate and evacuate power.

Signing of a new contract with Equis, the first regional developer of renewable energies

Award for centralised technical management system of Marseille's L2 bypass

The safety commission met on site and officially recommended that the building could open to the public

Delivery of 4 solar farms 100km to the north of Bangkok

New latest-generation production site for a world leader in carbon fibre manufacturing

An exemplary project combining technical challenges, energy development and local involvement